'I grew up in a small village on the outskirts of Midleton called Ballinacurra. My earliest memories of food would be when I visited my Grandmother. She was always making bread and tarts in her old-fashioned stove.
My father used to work in Johnny Barry's Bakery in Midleton, and would always arrive home with fresh bread. I began my chefing training in CIT where I got a job in the 'Bayview Hotel' in Ballycotton, under Kieran Skully.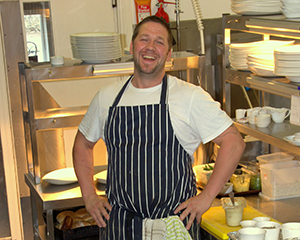 I then moved further afield to The Kingsley Hotel Cork under Paddy Kennedy and after that I went to Jacobs on the Mall where I worked under Mercy Fenton. I moved back to Midleton and worked in The Cross of Cloyne Restaurant. Then a job opportunity of Head Chef arose in Raymond's Restaurant where I have worked now for the past eleven years."
I am back in college now doing a degree in my chefing career and learning more about modern foods and new techniques. Hoping to introduce my skills in some new dishes in the coming year!